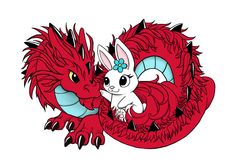 I've just been reading about the Chinese New Year and for 2015/2016 it's the year of the Sheep. Years ago I established that I was a Dragon so I decided to research Pia and it turns out she is a Rabbit (she's quite happy at the thought of being a cute, fluffy Rabbit; I am less enamoured that I'm a fiery Dragon). However, just for fun I thought I would delve into the traits of both to see how accurate they are…..or not.
Jennie – The Dragon
Personality strengths of Dragons are liveliness, intellect, energy and excitement. They strive for perfection, are not easily discouraged and sensitive about their reputation.
Other Dragons include Joan of Arc, Bruce Lee, Florence Nightingale and Mae West – all forces to be reckoned with!
Pia – The Rabbit
Rabbits are considered gentle, sensitive, compassionate and amiable with a strong memory. They like to communicate with others in a humorous manner and work with speed and efficiency
Other Rabbits in include Queen Victoria, Albert Einstein, David Beckham and Tiger Woods – all greatly admired for their longevity, knowledge and skills.
And my conclusion? Scarily, pretty spot on for both of us!!
But I'll bet you're wondering how this blog post relates to voice-over and the services we offer at Lovely Voice?
Well if you look at the combined attributes of our personalities you will see we possess a plethora of skills needed to create the perfect voice-over for you. I hope you are reassured that when you ask Lovely Voice to narrate for you, you'll receive:
Liveliness, intellect, energy and excitement

– vital components needed to create an amazing voice-over

Perfection, not easily discouraged and sensitive about their reputation

– we're super fussy here at

Lovely Voice

and your recording doesn't leave our studio unless we are confident that it's as perfect as it can be. Send us a script that needs modifying or is full of tricky words and we'll dig deep to create something you'll love and ensure those tricky words are pronounced correctly. Sensitive about our reputation? Absolutely!! We work hard to produce amazing voice-overs for you and want you to love what we have created. If you're not 100% happy for whatever reason, tell us so we can rectify the situation for you. Our great reputation is something we've worked hard to achieve!

Gentle, sensitive, compassionate

– We know how important your recording is to you and we treat your script with plenty of TLC (tender, loving care). Sometimes recordings we have created have been of a sensitive nature or needed a delivery that conveys compassion and sincerity. That's what we're here for!

Amiable

– We're bowled over by the positive feedback we receive and are delighted that clients find us easy to deal with, warm and friendly.

Strong memory

– We have clients who have lots of different requirements. We of course keep details of our clients and their needs and we pride ourselves on remembering the little things that result in our clients using our services time and time again.

Communicate with others in a humorous manner

– we're always extremely professional with our clients but as we've got to know them more we've enjoyed some humorous banter along the way; after all…we are real, approachable people.

Work with speed and efficiency

– many clients have strict deadlines to adhere to, so we strive to work speedily and efficiently to make sure your recording is delivered within your timeframe.
So there you have it! Choose Lovely Voice for your next project and I can guarantee a fiery Dragon and fluffy Rabbit will be working hard behind the scenes to deliver your message the way you want it heard!
Gong Xi Fa Cai or Gong Hey Fat Choy for 2015!