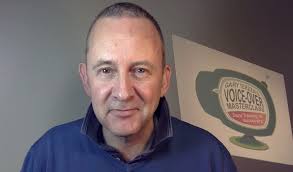 As a firm believer that you should learn something new every day and always strive to hone your craft, I thought it was time to have a
"voice check-up" with the very well respected Voice Over Professional – Gary Terzza who runs Voice Over Masterclasses in the UK (and in my mind will forever be THE voice of Channel 4 in the UK).
I truly believe however well you think you might be doing, it's important to touch base with a professional who works within the same industry, as a new pair of ears and a fresh perspective help you take your work to a new level.
I must admit I was a little star struck at meeting "Mr Channel 4" and when I squeaked "hello, it's lovely to meet you" he probably thought he was in for a busy afternoon!! However by the next sentence I'd managed to bring my voice down a couple of octaves to its normal range and we set to work with his super sound engineer, Anthony.
I had a lovely afternoon recording some scripts and gathering feedback and tips from Gary and Anthony and I certainly left the studio with a spring in my step and a head full of ideas which I am already implementing.
Gary's VoMasterClass™ course is really aimed at people starting out in the voice over industry. However, as I have already been involved in voice over for some years he very kindly tailored the studio session to suit my personal needs and I can still enjoy the benefit of 12 months support which is offered as part of the VoMasterClass™ course. For me, just to be able to use him as a sounding board or run ideas by him is invaluable (even if one month I just skype him and ask him to say "Jennie….. you're watching Channel 4").
In this competitive industry there is no room for complacency and it is worth investing money in your business to ensure it continues to thrive and survive and you deliver recordings to your clients that they love.
Gary's a really nice man, has a wealth of knowledge and experience and with his permission I'm passing on his details to anyone who might be thinking of a career in voice-over and looking for a place to start .
Gary's details are:
Gary Terzza – Course Director
Telephone: +44 (0)7957 600 543
Email: voice@vomasterclass.com
Website: http://www.vomasterclass.com
Thank you Gary for being my super sounding board!!!