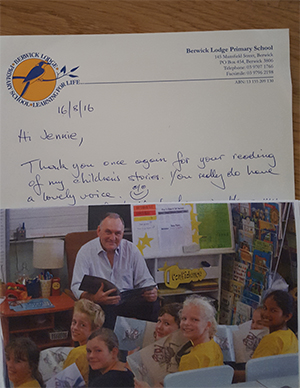 For me, one of the best things about being a parent has been the hours I have spent reading books to my children when they were younger. I have many happy memories of telling stories with my own special character voices and sound effects to my "little sponges." My kids are now grown up but they both have a passion for reading and can often be found engrossed in a book. Sadly my "job" is done with my kids so naturally, as a voice-over, when the opportunity comes up to narrate a children's story I'm beyond thrilled.
About a year ago I had the opportunity to narrate a story written by a fabulous Australian headmaster – Henry Grossek – who has been teaching and writing for over 40 years. After narrating the adorable story of "Darby Dingo" and his endless quest to find something good to eat, Henry kindly invited me to narrate his other stories – Bertie Bushfly, Peter Platypus, The Wandering Kangaroo and Bushfire. Frankly, I was in my element!
It's always lovely to keep in touch with clients and recently I was delighted to hear from Henry's assistant Liz, who wrote to tell me Henry's stories had been published and made into beautiful books. As a "thank you" she asked if she could send me copies.
Guess what's just arrived in the post? Six beautifully written and illustrated books that has brought back many fond memories of narrating the stories for Henry.
So… as my own kids are all grown up, can anyone lend me some little people? I've got a few stories to tell, complete with beautiful pictures too!
Did I happen to mention I love my "job"? Thanks, Henry – you've made my day!
October 2016