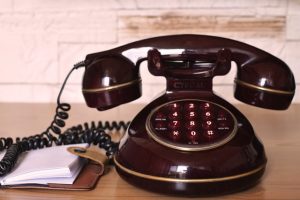 You have a thriving business and your phones are ringing off the hook? Fabulous! You want to streamline your calls so you create on-hold messages to give clients the option to reach the department or person they want to speak with? Good idea! But what about when your client or potential client has to hold that bit longer? What do they hear while they are waiting to connect with someone? "Greensleeves" on repeat? "Sorry to keep you" every 10 seconds? Or worse….. absolutely nothing!!
How many clients or potential clients do you lose each day, month or year because you haven't taken the opportunity to utilize a brilliant sales platform that will cost you the price of an engaging voiceover?
Here at Lovely Voice I've narrated IVR and on-hold messages for hundreds of clients around the world and it never ceases to surprise me how many people don't think to maximise the opportunity to use their on-hold message system to deliver company information or promotional messages that callers will find beneficial. Thankfully, once I've worked my magic on their script, they have a series of messages that engage the listener and more importantly give the caller valuable information they can use. Add some music that aligns with your brand or company and you have the perfect IVR system.
A recent survey revealed over three quarters of callers would stay on-hold longer if they had the opportunity to learn more about the company and their products. What could you include in your on-hold message? Aside from the usual extension numbers, how about opening times? Special offers? If you have a caller holding who wants to buy a product or service from you, directing customers to your website address may salvage the sale.
And finally, what about that on-hold "muzak"? How many times have you sat in a queue miserably la-la-laaing to a synthesised "Für Elise" or wishing winter would arrive having been stuck listening to "autumn" from Vivaldi's "Four Seasons"? With a catalogue of easy on the ear Royalty Free music Lovely Voice has something suitable for those "musical interlude" moments.
If all this sounds great but you don't know how to start, get in touch and let Lovely Voice create something especially for you!