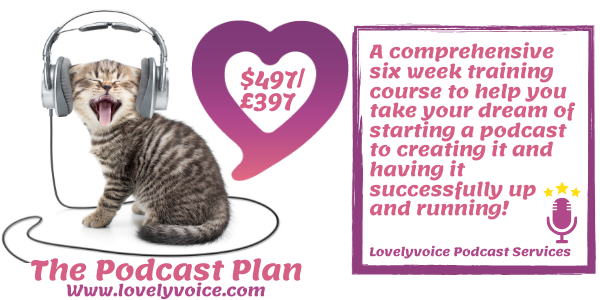 Lovely Voice Podcast Services
The Podcast Plan – 6 week course
Have you ever thought of starting your own podcast but the thought of it seems sooo daunting? Have you caught yourself thinking:
I want to do it but I have no idea where to start!
How and why would anyone listen to me?
I have the passion but I don't think I have the voice!
It's going to take me more time than I have available and as for the tech – yikes!
Well that's where I come in!
My 6 week course in starting your own podcast takes you through from the seed of an idea right through to launching your very own podcast. I've broken down the process into manageable stages and with me holding your hand and guiding you throughout, you'll be up and running before you know it! This is personal live 1-1 coaching so you can be sure all your queries will be addressed and if you don't understand something – I can walk you through it until you do!
Here's what we'll cover:
Session 1 – Laying the Foundations
Why do you want to podcast?
How you nail your genre
The purpose, who it's for, what will listeners learn, how to incorporate it into your business.
Topic, format, and name. Choosing something that stands out and availability
How to be different from your competitors
Session 2 – Planning
Setting a launch date and how to tell people you are starting
Promoting your new podcast (social media)
How to plan each episode (solo/guest) with call to action
How to advertise your business on your podcast
Session 3 – Setting Up
Interview technique
Podcast format
Intro/outro – creating a powerful script and royalty free music
Finding and connecting with guests
Facebook page for your podcast
Page on your website for your podcasts episodes
Creating artwork (that will be approved by iTunes)
Session 4 – Recording Your First Episodes – Introduction and some in the bank
Planning your first "about me/the podcast episode"
Creating content for your first month
How to get onto all the platforms
Mini episodes – tips etc.
Podcast length
Session 5 – Editing and Producing
The importance of show notes and how to create them
How to do the little instagram teasers
Equipment
Downloading and Editing Software
Editing yourself or finding a podcast editor
Session 6 – Publishing and the Way forward
How to be a guest on other podcasts
How to repurpose content – podcast – Facebook Live – You Tube – live events -using an interview you've done with someone on your podcast
Podcast Facebook groups and podcast meet ups
Potential for sponsors
Repurpose content – webinar, seminar into a podcast episode, putting it on you tube etc.
All this content is available to you at just $497/£397 and you'd like a free, no obligation discovery call to ensure find out more, I'd be delighted to speak with you!
For further information, you can email me at jennie@lovelyvoice.com